Like I mentioned in my last blog post I want to move more into UI and UX design. Therefore, I recently started an online course by a guy called Erik Kennedy.  The course is based on several chapters of streamed videos featuring Erik, followed by small assignments. There's also a Slack team connected to the course, where you can discuss your results, questions or other related subject with fellow students and Erik himself. So far the course looks promising as a good start for someone who like me, have worked a couple of years in the design industry and is familiar with the fundamentals of design, but who want to adapt their design process to work more with UI.
One of the first assignments I was set upon was to find a couple of websites that I liked and analyse why I liked them in terms of design. This is standard procedure if you're already working as a designer, you find inspiration and analyse things all the time. Only for me it's something that I've mostly done subconsciously. It's not very often that I look at something I like and actively ask myself why I like it. Therefore I thought that this assignment was helpful in honing my design senses a bit and reminding myself what design is all about, to find what can be improved and to solve the problem.
Since this blog works much lika a personal journal and documentation of my development as a designer I wanted to share my assignment below. I've posted the insights that popped into my head during this one-and-a-half hour when I devoted myself to the task of analysing five websites that I liked. Feel free to leave a comment below if you want to share your own analysis.
B&O Play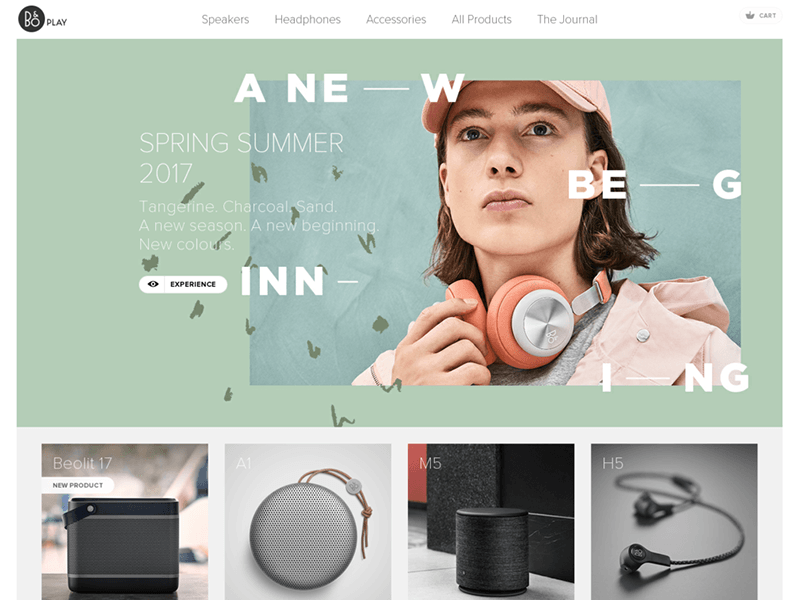 What I like
Generous margins makes the site feel airy and uncluttered
The subtle grey background makes the cards pop and works well together with the product images and the Bang Olufsen brand
The white and grey color theme let the content speak for itself while still keeping the site interesting
The grid, using both square and rectangular images in portrait and landscape format, makes the site feel structured and dynamic at the same time
Price tags and buttons are clear and give me a hint on where I'll end up if I press them
Both the top menu and the footer are very clear with their big fonts and generous whitespace and makes it easy for me to find what I'm looking for
Subtle use of animations adds interest without being intrusive
What I don't like
I'd make the font a little bigger within the cards for increased readability
The shopping bag icon looks a bit like a baby carrier seat, I would change the look of it to more resemble a shopping basket
2016 Web Design Report by Avocode
http://avocode.com/design-report-2016/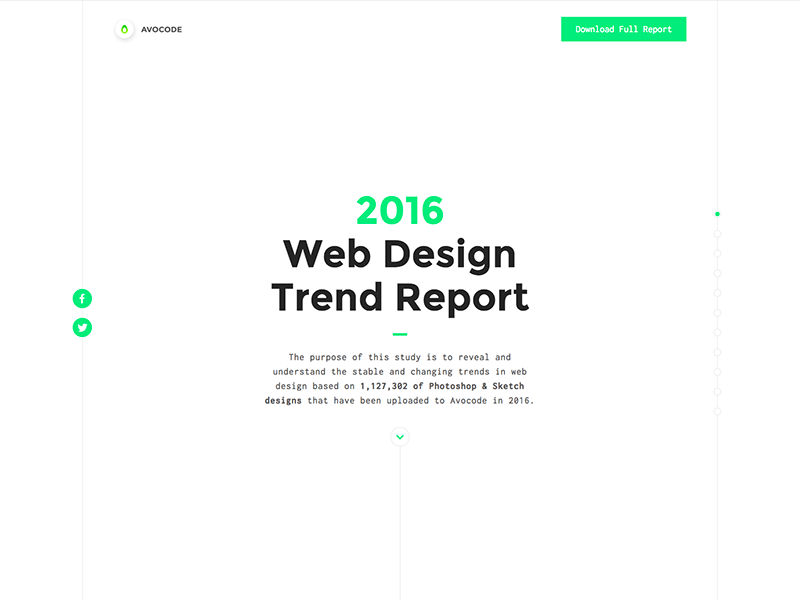 What I like
I like how clean and fresh the site feels with all that white space in combination with one high saturated color
Animation follows direction (it animates only along the Y-axis)
The navigation on the right is very un-intrusive, yet very clear. I especially like how the title of the section animates in and then disappears
The site allows me to navigate using four different methods, scroll, keyboard arrows, pressing up and down buttons or skipping section by using navbar on the right
Small typographical elements make the content feel more interesting
What I don't like
Green color hurts my eyes a bit and makes me a little dizzy
ustwo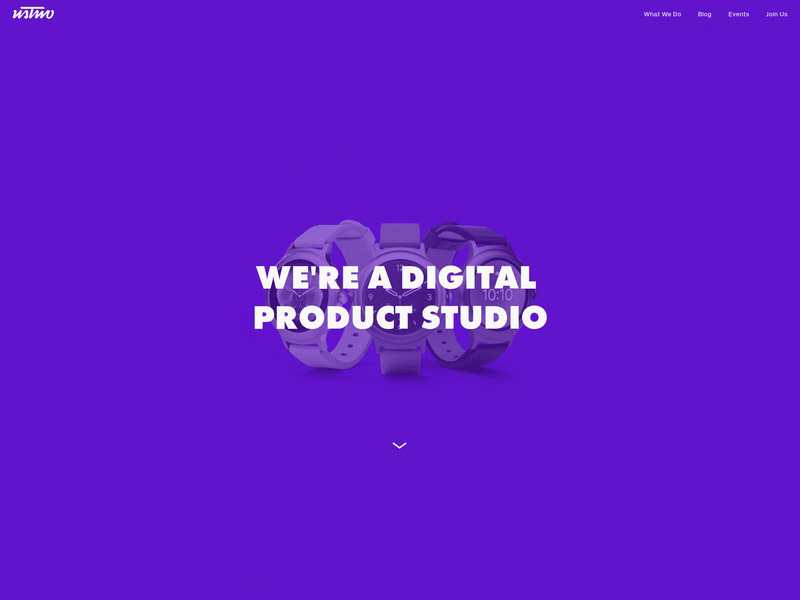 What I like
I love how the background changes color when I scroll
Big and bold font draws my attention and is easy to read
Big buttons, boxes, fonts and icons in combination with lots of white space makes the site feel easy to navigate and understand
Color coded category tags on blog posts makes it easy for me to find stuff that interest me
Playful use of colors goes well in line with the ustwo brand and makes the site more fun
In spite of the playful use of colors the site gives me a "no bullshit"-feel. Probably because of the contrast to the more serious typography
What I don't like
The site feels a tiny bit oversized, almost like it's meant for people with bad eyesight
The content of the fullscreen videos is a bit confusing, what am I looking at and why?
Airbnb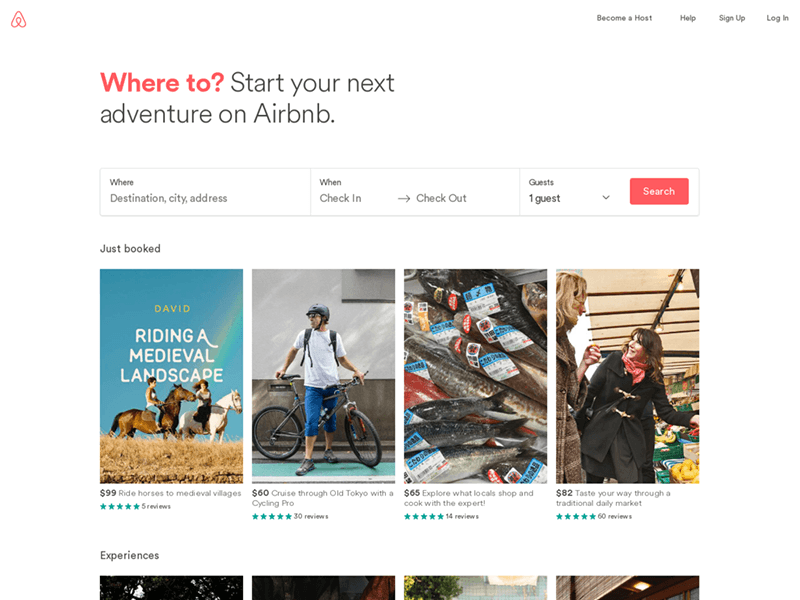 What I like
Very few distracting elements makes site easy to understand
Big buttons and interactive areas makes site easy to use on mobile as well as desktop
Filters on the search page use visual elements like icons to make things really easy to understand
I like how the map responds to my cursor hovering over accommodations on the search page
Search page uses big images and minimal amount of information to give the user a quick overview
Table with sections and icons on the accommodation page makes information easy to find and easy to compare
The site in general makes good use of lines, icons and coloured buttons. Different size fonts also give the site a clear message hierarchy so the user can find the most important info really quick.
What I don't like
Landing page feels a bit jagged when loading new content
Spotify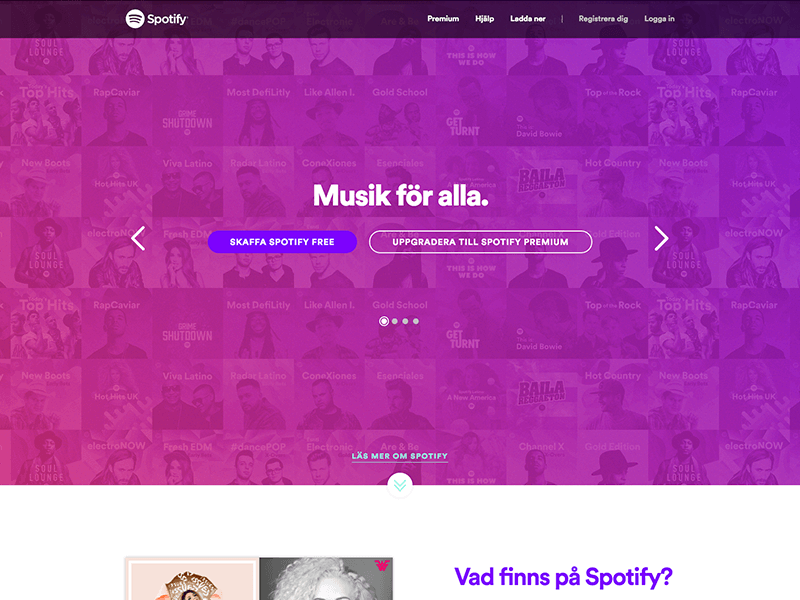 What I like
Same parallax background gives the site some nice depth without being too annoying
I like how the content overlap sections. Makes the site feel like it has some depth
Big bold typography is easy to read
Neon colors feel young and modern
What I don't like
The cookie policy pop-up is using some blue color never seen anywhere else on the site
I feel like there are a bit too many colors used on the site with no clear pattern. I'd stick with two or maybe three and keep the same color theme on all pages